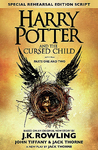 Harry Potter and the Cursed Child – Parts One and Two by J.K. Rowling
My rating: 5 of 5 stars
ARC kindly provided by Hachette Children's Books in exchange for an honest review.
Review

'Harry Potter and The Cursed Child – Parts One and Two' rocked my socks off! I loved it! And I AM NOT A HARRY POTTER FAN!
I know, I know! *gasps* *screams* "How could you say that, Stacey!!!!" Well, I've never picked up a Harry Potter book before, despite all the movies that I've watched, and I've always endeavoured to never pick up the series. Why? Mostly because I was afraid that the series would be a big disappointment to me in the face of ALL the hubbub and uproar about it. Why was I so afraid of this? Because of my encounters with, maybe, ALL the books turned movies which I've read and ended up disliking! (The books, not the movies.) Take the 'Divergent' series. I can truthfully and without regret say that the movies were better than the books.
Reading a play was DEFINITELY something new to me. But despite all the dialogue, I actually quite enjoyed all the action and speech thrown around! I thought that just reading dialogue would be boring as HELL, but it really wasn't! There was awesome stage directions on the authors' parts and you could get a sense of the settings they were in quite clearly. WITHOUT all the descriptions that are usually needed in novels. It was an interesting experience! One that I would gladly return to! (At least I hope that's what the "Parts One and Two" allude to on the cover: that there will be more to the story.)
There was a great pace and story plot! Everything was revealed quite neatly and it always kept me on my toes! All I remember is picking up the book and maybe waving my hands in a shooing motion towards my friends and family whenever they came near me. (Sorry, family and friends!) It really is a one-sitting read. There isn't any way that you could possible leave the novel behind for less than FIVE min!
I really enjoyed the plot twists, and the actually story got me emotionally invested in it quite quickly! I enjoyed reading from an adult Harry Potter's perspective. He stayed true to himself, I believe, but has matured and shown that evolvement from teen to adult very nicely.
I felt that all the new characters were pretty awesome additions. I really enjoyed being introduced to the kids of Harry and Ginny! Especially young Rose Granger-Weasly! So much like her mother! *laughs heartily*
Starting off a series with the EIGHTH book is probably not such a good idea, but I thought it was a good decision on my part. Why? BECAUSE I now REALLY want to read the entire series from scratch! Oh, my gosh, I can't wait! WHY, in all that is holly, didn't I read the series!
Congratulations to J.K Rowling on publishing an ENCHANTING new play and the EIGHTH instalment in the 'Harry Potter' series! Also to John Tiffany and Jack Thorne! Fingers crossed for more work from the three!
Rating Plan
1 star : Strongly did not like the book, writing and plot was bad. Idea of the book was against my liking.
2 star : Didn't like it, didn't find it interesting or gripping. Seemed to drag on to me.
3 star : An average book. Wasn't bad or good. Everything else was well done. Original idea.
4 star : Like a 3 star but has potential to it as a series or the book grew on me as it progressed and certain scenes captured me. I Enjoyed it and read it in one sitting.
5 star : I LOVED IT! I stayed up late until 3 am. Author is a genius, characters, plot, idea, development, EVERYTHING was EXCELLENT. Nothing else can possibly be said except that its 5 STAR!