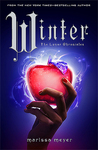 Winter by Marissa Meyer
My rating: 4 of 5 stars
'Winter' wasn't as good as I had expected it to be. I know, "What? Are you kidding me? This is the 'Lunar Chronicles' series!". It was a good story and a very solid one at that but I felt like it wasn't what it should have been. The storyline was complex and detailed but I felt that there was some KEY missing here. Like it didn't like up to the standards the other novels set. This little fella, and by that I mean BIG fella took up over 800 pages. But during that time – whilst I was interested – it just kept on about wrapping up the plot of the previous novels whilst also simultaneously having to introduce a new romantic plot for Winter. I bit much in my opinion. And yet another thing I noticed was that each couple lost the attention I believe they should have been given in their novels to other characters. And also, I didn't like Winter all that much. When she was a kid? SURE! Now. Just…be cautious around her.
Congratulations to Marissa Meyer on publishing the finale to the epic 'The Lunar Chronicles' series!